MPB News is dedicated to providing voters in Mississippi the most up-to-date information
about candidates and initiatives on the 2020 general election ballot.
<! -- PBS Election: iUgd6GHGEE8 -->
LEGALIZING MEDICAL MARIJUANA
Voters in Mississippi will decide whether medical marijuana should be legalized in the state when they head to the polls in November.
There will be two medical marijuana proposals on the ballot. Voters can choose between a citizen-sponsored initiative measure number 65 and an alternative measure number 65A approved by legislators or they can select neither option.
If either of the proposals prevail on the Nov. 3 ballot, medical marijuana will be incorporated into the Mississippi Constitution.
Initiative Measure No. 65 vs. Alternative Measure No. 65
Initiative Measure No. 65
Supports approving the medical marijuana amendment as provided by Initiative 65.
Would allow

medical marijuana treatment for more than 20 specified qualifying debilitating medical conditions such as cancer, epilepsy, Parkinson's disease, Huntington's disease, glaucoma, sickle-cell anemia, Crohn's disease, agitation of dementias, etc.

Allows individuals to possess up to 2.5 ounces of marijuana at one time

and tax marijuana sales at no more than the current state sales tax rate of seven percent

.

Requires the Mississippi Dept. of Health to implement, administer, and enforce the provisions of this article and shall issue reasonable rules and regulations.

Is required to pay for itself and would require no general fund appropriation.
Alternative Measure No. 65
Supports approving the legislature's alternative medical marijuana amendment.

Would restrict smoking marijuana to terminally ill patients.

Requires pharmaceutical-grade marijuana products and treatment oversight by licensed physicians, nurses and pharmacists.

Limits the number of state-licensed manufacturers of marijuana products.

Leaves tax rates, possession limits, and certain other details to be set by the legislature.
Mississippians will vote "Yes" or "No" on whether the following design shall be the official Mississippi State Flag.
The flag was designed by Rocky Vaughan, with design support provided by Sue Anna Joe, Kara Giles, Dominique Pugh, Clay Moss, and Micah Whitson. It features a white magnolia on a blue banner with red and gold bars on each end. The magnolia is encircled by twenty-five-point stars, plus a star representing indigenous Native Americans, and the words "In God We Trust."
HOUSE CONCURRENT RESOLUTION NO. 47
Voters will select YES or NO to the following amendment on the ballot. This amendment provides that to be elected Governor, or to any other statewide office, a candidate must receive a majority of the votes in the general election. If no candidate receives a majority of the votes, then a runoff election shall be held as provided by general law. The requirement of receiving the most votes in a majority of Mississippi House of Representatives' districts is removed.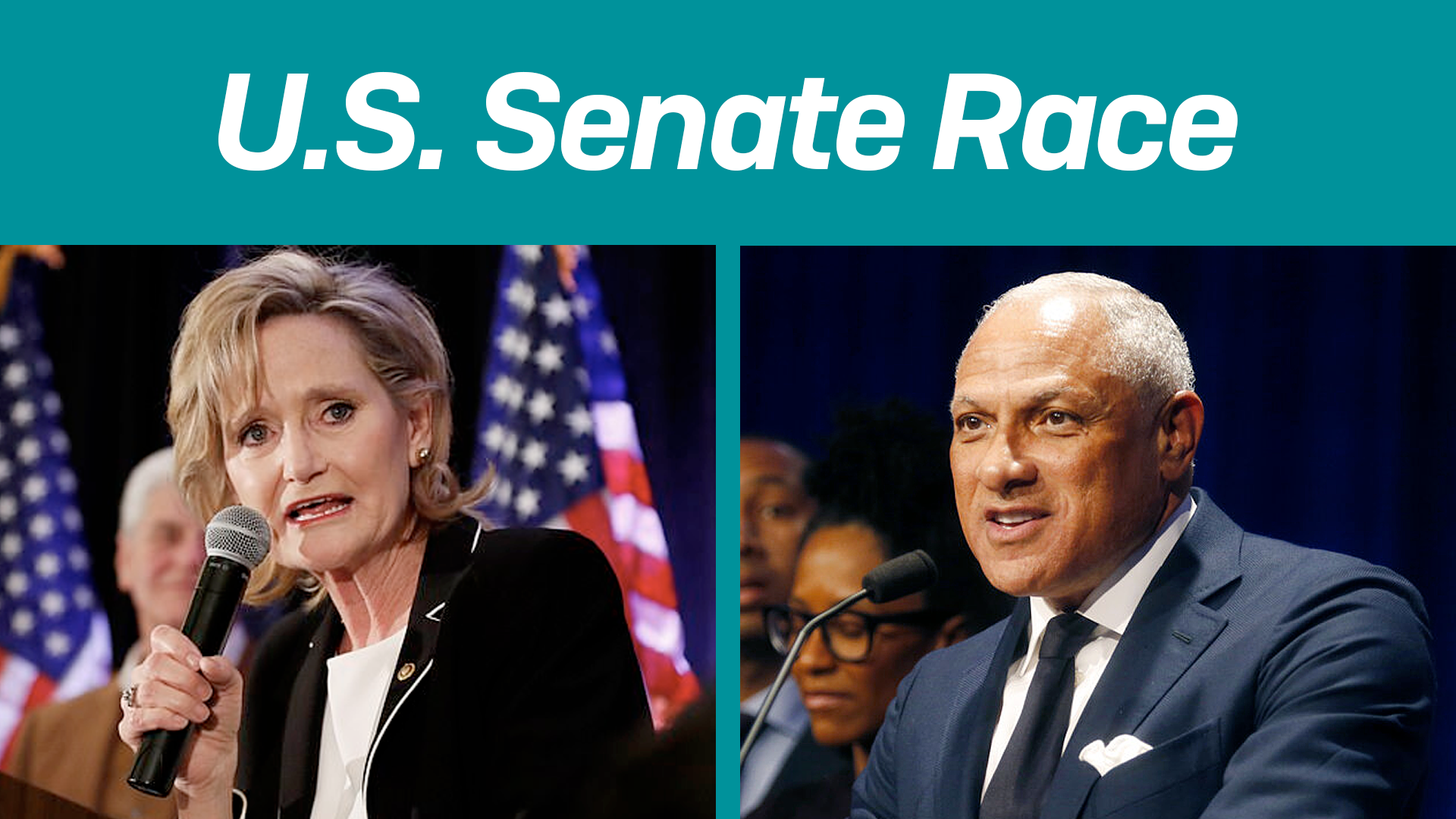 Republican Cindy Hyde-Smith and Democrat Mike Espy are facing each other for the second time in the race for U.S. Senate in Mississippi. In 2018, Hyde-Smith won the special election runoff over Espy by a seven percent margin becoming the first woman elected to Congress from Mississippi. She served out the remaining two years of former GOP Sen. Thad Cochran's term, whom she was appointed to replace after he resigned. Espy in his concession speech declared that his loss in 2018 was not the end, but the beginning. The former congressman who served as agriculture secretary under former President Bill Clinton appears to be running a close race with Hyde-Smith. According to a poll by the Tyson Group, one-point separates Espy and Hyde-Smith in the race for U.S. Senate.
FRONTLINE
The Choice 2020: Trump vs. Biden
1:54:21
Published:
An election-year examination of the moments that shaped Donald Trump and Joe Biden.