MPB: Celebrating 50 Years of Service
MPB: Celebrating 50 Years of Service
58:58
Published:
MPB looks back at 50 years of great programs and service.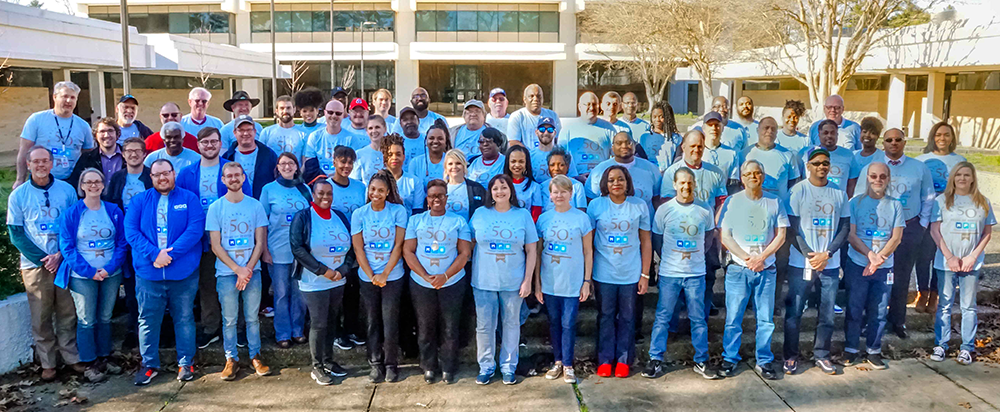 MPB Anniversary Timeline
Agency-Wide • Education • Television • Radio
1969 – The Mississippi Legislature established the Mississippi Authority for Educational Television (MAET) with the mission of providing "educational and instructional professional growth and public service programs for the students and citizens of Mississippi." William R. (Bill) Smith was unanimously appointed as director.
1970 – MAET first hit the airwaves as Mississippi Educational Television (ETV) providing quality educational television programming. The broadcasting network of eight transmission towers throughout Mississippi links communities together.
1971 – ETV receives a Peabody Award for enhancing the educational system of the state of Mississippi through the innovative use of television.
1971 – The first major production to be produced and aired locally on ETV was A Season of Dreams. New Stage Theater actors perform works from celebrated Mississippi author Eudora Welty in the Mississippi Educational Television studio.
1976 – The TODAY Show films at ETV.
1976 – Lee Morris is named executive director of Mississippi Educational Television.
1977 – The Islander, a film on acclaimed watercolor artist Walter Anderson from Ocean Springs, Mississippi airs.
1977 – ETV's longest-running show Farmweek begins airing October 3, 1977, and continues to air today.
1979 – William Faulkner: A Life on Paper, a documentary on the life and writings of William Faulkner as portrayed through readings, photographs, interviews with family members, historians and associates, airs.
1983 – MAET establishes Public Radio in Mississippi (PRM).
1983 – Mississippi Roads, the most popular locally produced show on ETV, airs for the first time and runs until 1994.
1984 – MPB Radio airs statewide.
1984 – B.B. King at Parchman airs for the first time. B.B. King, "The King of the Blues," performs an outdoor concert at Mississippi's Parchman prison.
1985 – Radio Reading Service of Mississippi begins.
1985 – Tomes and Talismans, one of the most popular education series, aired nationwide in 1985. The series takes place in the distant future when all of humankind were evacuated from Earth. A group of returning children stumble upon the last Earth library, and they must rely on the Dewey Decimal system to uncover the information held there.
1986 – First meeting for the development department, now known as the MPB Foundation. Mary Ann Garrity serves as its director. First campaign is launched in October of this year and includes calls, letters (penned by Eudora Welty), and on-air spots asking for donations.
1989 – Construction to bring all MPB departments under one roof begins.
1990 – Mississippi Outdoors begins airing in September and still airs today.
1993 – Larry Miller is named executive director.
1993 – Return to the River: A Television Voyage airs for the first time. The program uses in-depth interviews with great Southern writers, scholars and musicians, interwoven with a historic down-river cruise aboard the Delta Queen steamboat, to sample the music, culture and traditions of the people along the Mississippi River and show the impact of these Southerners on the nation. It features Shelby Foote, Alex Haley and Eudora Welty and is narrated by James Earl Jones.
1994 – Richard Wright: Black Boy, a co-production with the BBC, airs for the first time. African-American author Richard Wright was born in 1908 on a plantation outside Natchez, Mississippi. Wright overcame a childhood of poverty and oppression to become one of America's most influential writers. The program intercuts dramatic excerpts from "Native Son" and "Black Boy" with historical footage and the recollections of friends and associates, including Ralph Ellison, and Wright's daughter, Julia.
1995 – ETV participates in the first Reading Rainbow Young Writers and Illustrators Contest. This contest is an annual art and literature completion for students in grades kindergarten to 12.
1995 – First ever Radio Live Drive
1995 – ETV launches the Mississippi Interactive Video Network (MIVN), now named the Digital Education Network (DEN), which allows a teacher in one location to instruct a class hundreds of miles away. This service is free to all Mississippi students.
1996 – MAET establishes a mission statement in release of a five-year strategic plan: The mission of the Mississippi Authority for Education Television is to enrich the lives of Mississippians through the creative use of technologies to deliver programs and services which educate, inform, entertain, and inspire.
1997 – MAET launches its first website.
1998 – PRM establishes a news department.
1999 – Mississippi Roads, the most popular locally produced show on MPB, is brought back by viewer demand and returns with Walt Grayson as the host of the show.
2000 – MAET is the first broadcasting entity to complete the conversion to digital technology in Mississippi.
2000 – Between the Lions, an award-winning PBS television series, premieres in April. The show was a co-production between WGBH in Boston and Sirius Thinking, Ltd., in New York City, in association with MAET, the distributor from seasons 5-10. It is designed to foster the literacy skills of its viewers, while playfully demonstrating the joys of reading.
2000 – MAET began Right from Birth: A Parenting Series that provided educational resources to the parents and caregivers of Mississippi. This project used a multimedia approach to educate parents and childcare providers in preparing children from birth through age 5 for a lifetime of learning.
2000 – MAET partnered with PBS TeacherLine in a Star Schools Grant from 2000-2005 to provide innovative, online staff development to K-12 teachers statewide.
2002 – Marie Antoon is named executive director.
2002 – MAET received a grant from the AmSouth Foundation to introduce Right from Birth into the curriculum for Family and Consumer Science Mississippi high schools and community colleges. Teachers from 145 high schools, seven community colleges and 17 vocational centers were trained to teach the program in their classrooms.
2003 – Singing River: Rhythms of Nature is a documentary narrated by Mississippi native son, Gerald McRaney, the documentary explores the ecological, cultural, recreational and economic significance of the Pascagoula River. The river is the second-largest surface water basin in Mississippi and the last unimpeded major river system in the lower 48 states.
2003 – MAET produced Going to School, the highly anticipated follow up to Right from Birth. The Going to School series is based on the research of Drs. Craig and Sharon Ramey. Going to School is a video series designed to help parents and other important people in the life of a child think about how they can help make a successful transition from home or other care settings to school.
2003 – ETV receives Southeast National Academy of Television Arts and Sciences Governor's Award.
2005 – MAET begins producing seasons 5 through 10 of Between the Lions, an award-winning PBS television series.
2005 - MAET adopts "Mississippi Public Broadcasting" (MPB) as a name for all television and radio operations.
2005 – 2010 MPB, in partnership with the Barksdale Reading Institute, The Early Childhood Institute-MSU and WGBH in Boston began the Between the Lions Mississippi Literacy Project which was designed to help children develop strong foundations in basic reading skills. This project provided mentoring through MPB Early Childhood Specialists who model before, during and after activities using episodes of Between the Lions. MPB worked with 122 childcare centers impacting over 1,800 children implementing the Between the Lions Preschool Literacy Curriculum.
Ready To Learn initiative programming:
SuperWhy Reading Camps (children entering kindergarten)-2 camps held at MPB Summer, 2008
PBS KIDS Raising Readers "Watch. Learn. Read" DVD Distribution-BTL Childcare Centers, Fall 2008
Martha Speaks Reading Buddies Program at Johnson Elementary School-Jackson, Spring 2009
PBS KIDS Raising Readers Library Corner at Brandon Public Library-Brandon, Summer 2009
2006 – 2009 MPB began the Between the Lions/Delta Revitalization Preschool Literacy Initiative. MPB partnered with the Mississippi Delta Revitalization Task Force to provide this project to help develop a strong foundation in early literacy skills by addressing literacy levels among preschool aged children in the Mississippi Delta. The mission of the Mississippi Delta Revitalization Task Force is to develop a plan of action to strategically revitalize the Mississippi Delta Region and improve the quality of life for residents in this region.
2007 – MPB hosted the Teletubbies Get Up and Go event. Ragdoll Ltd., creators of the award-winning Teletubbies, partnered with MPB to host the event as part of the Teletubbies Get Up and Go! National Day of Exercise. The program was designed to drive increased awareness among teachers, parents, and caregivers about the importance of physical movement and the joy of active participation for young children.
2007 – MPB produced a concert performance titled, "A Tribute to Medgar Evers," a musical concert which features works by nationally recognized composers and soloists and a narrative on Evers' life and work by Randle Pinkston. In an effort to highlight Medgar Evers' contributions to civil rights, Mississippi Public Broadcasting, through a grant from the Corporation of Public Broadcasting, developed an extensive educational outreach component including lesson plans and a curriculum guide appropriate for grades sixth through college freshman. In addition, a website of the educational material with relevant photographs, captions, a virtual tour of the Evers Home Museum and video interviews are available at www.everstribute.org. MPB also offered an online course for educators on teaching the "Life and Legacy of Medgar Evers in Mississippi Classrooms" through E-Learning for Educators.
2008 - MPB splits its radio operations into MPB Think Radio and MPB Music Radio.
2008 – MPB teamed up with Rotary International District 6820 to bring the Between the Lions Preschool Literacy Curriculum to local pre-K classrooms to help teach our earliest learners how to read.
2008 – MPB held two SUPER WHY Reading Camps simultaneously for children ages 4 to 5 during the week of July 21, 2008. The goal for the summer camps was to expose children and their parents to the critical skills needed to learn to read and to develop a love for reading at an early age.
2008 – The MPB Kids Club kick-off celebration, "The World of Scooter Paws," was held July 26 at LeFleur's Bluff State Park.
2009 – Judy Lewis is named executive director.
2009 – MPB and PBS KIDS Raising Readers partnered with Brandon Public Library to pilot a PBS KIDS Raising Readers Corner experience for children ages 2 to 8. This special library program launched June 2009, just in time for summer reading programs. It gave children the opportunity to strengthen their literacy skills through fun and engaging multi-media platforms ranging from self-directed worksheets and online reading games to online videos, or parent-led activities, as well as facilitator-led activities using media clips from a broad selection of PBS KIDS shows and high-quality online content from Sesame Street, Word World, SUPER WHY!, Between the Lions, Martha Speaks and The Electric Company.
2009 – MPB participates in the PBS Kids Go! Writers Contest (formerly Reading Rainbow Young Writers and Illustrators Contest).
2009 - MPBcreated Ed Said, a children's "edutainment" project. Ed is a boy who loves to learn about being healthy and is known for his love of raps and rhymes. This reputation has earned him the rap name, Ed Said. Ed Said lives on the internet in webisodes at EdSaid.org, and in animated music video interstitials that are broadcast on MPB's television channel between children's programming.
2010 – MPB hosted its first Education Summit "Accomplishing Educational Goals during Difficult Economic Times." The summit focused on Mississippi's education budget and its effect on early childhood through college.
2011 – Ronnie Agnew is named executive director.
2011 – MPB turned its attention to the dropout crisis in Mississippi. MPB identified strategic partners and planned activities to impact students and parents. The program consisted of a major summit, "Stop the Drop," which reached approximately 200 students, educators and community leaders. Town hall meetings followed the summit and were held at high schools with particularly poor graduation rates in Jackson, Mississippi. At the town hall meetings, students were identified who wanted to participate in the Can I Kick It? Crew, along with community leaders and educators who have a passion for empowering students and helping them reach their potential.
2012 – Fit to Eat, a healthy cooking show hosted by Chef Rob Stinson focusing on fresh ingredients and easy to make meals, airs.
2012- MPB again held a "Stop the Drop" summit that successfully addressed solutions for the dropout crisis. Town halls at four at-risk high schools followed the summit. In 2012, MPB held its first Can I Kick It: Youth Movement Through Media Summer Institute. The institute consisted of 50 students who focused on dropout prevention issues, while being introduced to digital media and producing short documentaries.
2012 – MPB partnered with two elementary schools (Marshall Elementary and Davidson Elementary) to offerThe Martha Speaks Reading Buddies program. The program used the vocabulary focus of the series to pair kindergarten students (Little Buddies) with fourth or fifth graders (Big Buddies) to meet one-on-one for a series of 45-minute activity sessions during up to 10 sessions. The buddy pairs share books, talk, and do fun activities together, while learning and using new vocabulary words. The Little Buddies learn between 24 and 32 new words (three to four words per session) through multiple exposures, including watching Martha Speaks episodes, reading related books, and doing hands-on activities. Both schools completed all six sessions with a total of 94 students participating (48 kindergartners and 46 fourth and fifth graders).
2014 – 1964: The Fight for the Rightdocumentary airs. By the mid-twentieth century, Mississippi's African Americans had suffered from nearly 75 years of Jim Crow discrimination. In order to break open the closed society and improve their lives, they needed to be able to vote. In the summer of 1964, hundreds of young white volunteers converged in Mississippi to join local African Americans for a 10-week voter registration campaign. The results of their efforts still reverberate.
2015 – MPB received a second five-year Ready To Learn grant from the U.S. Department of Education, Corporation for Public Broadcasting and PBS. This grant supported the development of collaborative relationships with local community organizations to engage and support the young children and families with the continued focus on science and literacy.
2015 – MPB received a two-year American Graduate: Let's Make It Happen grant through the Corporation for Public Broadcasting. This grant helped Mississippicommunities identify and implement solutions to address the high school dropout crisis.
2018 – MPB partnered with the Mississippi Secretary of State's office on "Promote the Vote." Promote the Vote is the Secretary of State Office's comprehensive K-12 voter education program. Schools and students participated in a mock election, art and essay contest. MPB partnered again in 2019.
2018 – MPB received a two-year American Graduate: Getting to Work grant from the Corporation for Public Broadcasting. The grant helped advance education and career readiness for Mississippians. Through this grant MPB worked with partners to assess workforce challenges and opportunities and produce content focused career pathways and the essential skills needed for students and workers to be successful.