Join state mental health leaders, MPB for virtual screening, discussion June 29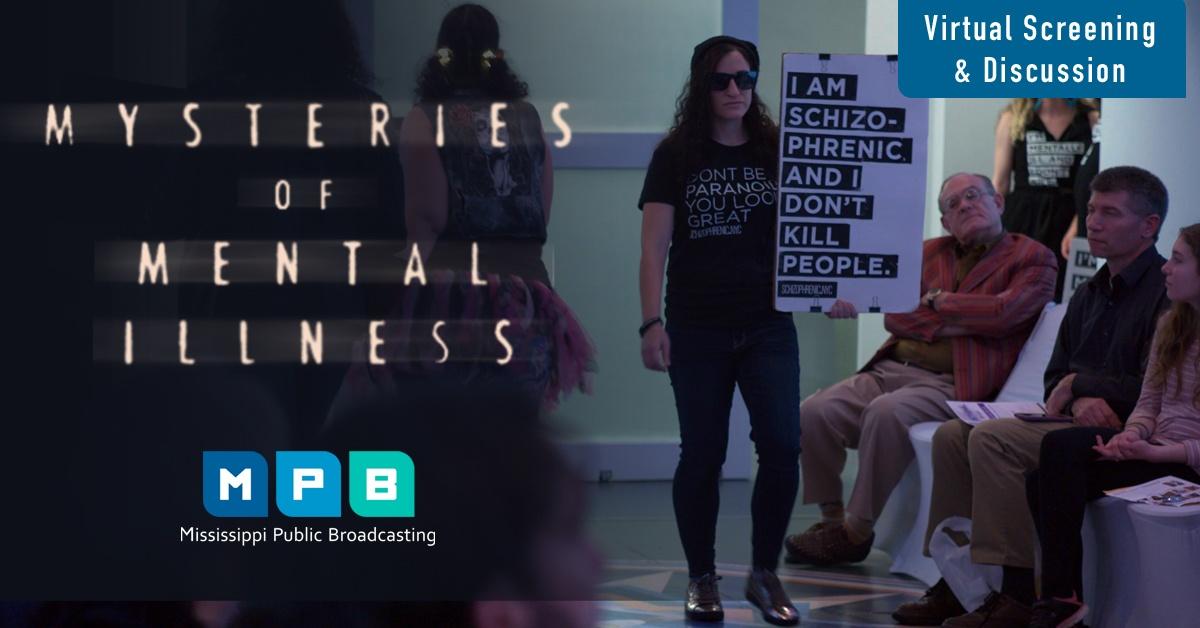 Press Releases
JACKSON, Miss. – Join Mississippi Public Broadcasting and some of the state's top mental health leaders for a free virtual screening of the documentary Mysteries of Mental Illness at 7 p.m. Tuesday, June 29. A live panel discussion reviewing conditions, treatments and more will follow. Online attendees can ask questions during the event.
Registration is required at mpbonline.org or via Eventbrite.
Desare Frazier, MPB senior news reporter, will moderate the discussion with state mental health leaders. Those leaders are:
Dr. Joy Hogge – Families as Allies
Dr. Susan Buttross – University of Mississippi Medical Center
Wendy Bailey – Mississippi Department of Mental Health
Sitaniel Wimbley – NAMI Mississippi
Mysteries of Mental Illness is a four-part series that explores the evolution in understanding and the dramatic attempts across generations to unravel the difficult questions surrounding mental illness people have grappled with throughout history: What causes it? And how it is best treated?
Research by University of Mississippi Medical Center and Mississippi State University faculty, staff and students will be included in the documentary. The staff and faculty are part of a group - The Asylum Hill Research Consortium based at UMMC - conducting research about patients who died at the Mississippi State Asylum, which operated from 1855 to 1935 in Jackson. Graves were discovered in 2012 on the only remaining undeveloped part of the University of Mississippi Medical Center's main campus.

The PBS series will air on MPB Television at 8 p.m. and 9 p.m. Tuesday, June 22 and Wednesday, June 23. Afterward, the series will stream online and on the PBS Video App. Individuals can watch the series before MPB's June 29 virtual event or stream the series later.
MPB is a state agency that also operates as a PBS and NPR affiliate broadcasting station. For more information visit www.mpbonline.org. Find all MPB press releases here.
---

###
Mississippi Public Broadcasting provides relevant instructional and public affairs programming to Mississippians through its statewide television and radio network. MPB enhances the work of educators, students, parents and learners of all ages by providing informative programming and educational resources. MPB's locally produced programming focuses on the people, resources and attractions that reflect Mississippi's unique culture and diverse heritage. Children's television programs constitute a major portion of the daytime and weekend morning schedules. MPB provides a valuable resource to Mississippians in disseminating information as part of the state's emergency preparedness and response system. Since 1970, MPB has won over 350 national, regional and statewide awards, including Emmy®, Edward R. Murrow and Parents' Choice® Awards.