Walter Anderson film delves deeper into artist's life, premieres Nov. 4 on MPB Television
by
Published on
• Last modified on
• Comments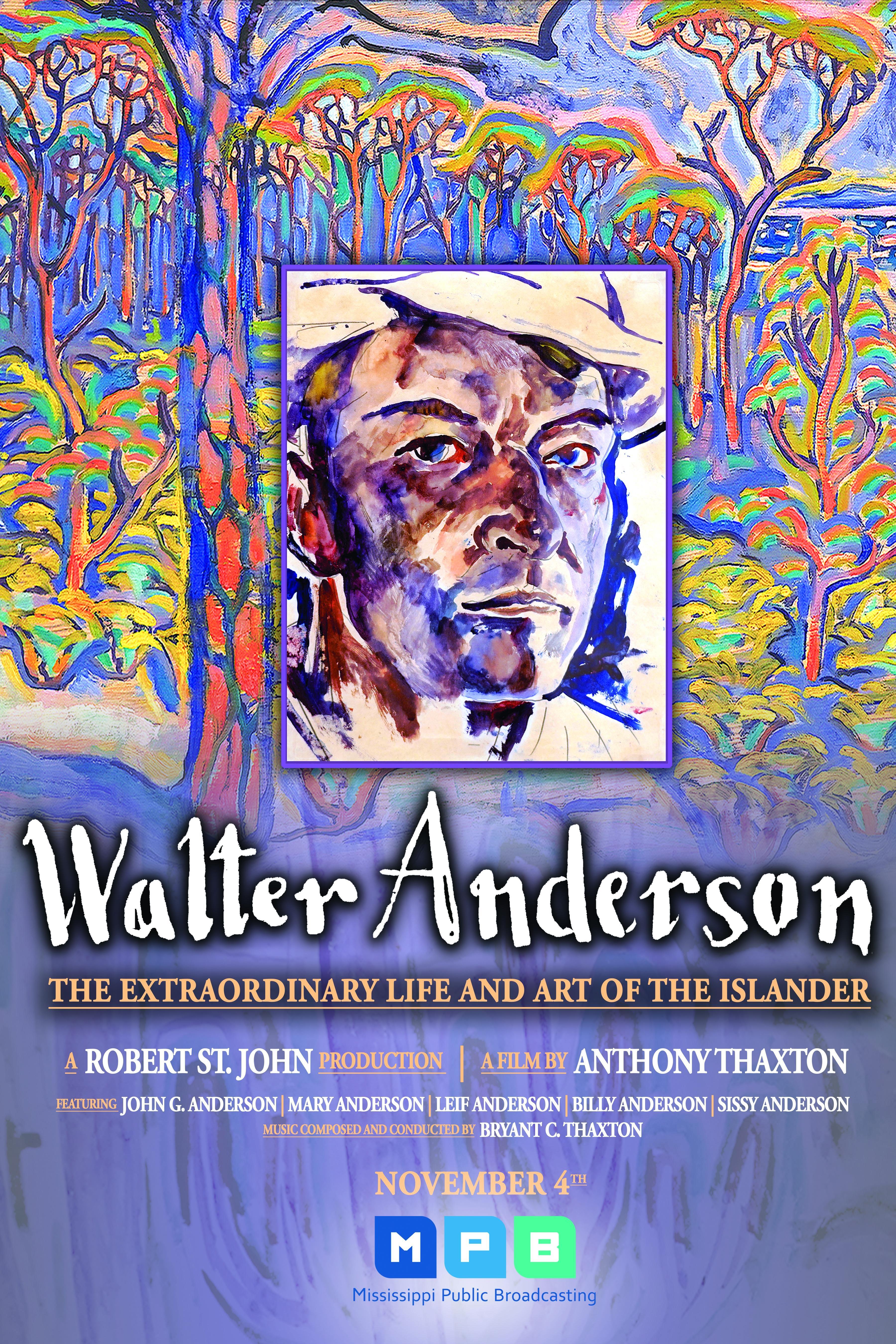 Press Releases
JACKSON, Miss. – Walter Anderson: The Extraordinary Life and Art of The Islander will premiere exclusively on Mississippi Public Broadcasting Television at 7 p.m. Thursday, Nov. 4.
The new, intimate and revealing film explores the fascinating life and work of Mississippi Gulf Coast watercolorist Walter Inglis Anderson. Through poignant family interviews, never-before-seen artwork and breathtaking images from Anderson's beloved Horn Island, discover the genius who has been called "the South's greatest artist."
Encore presentations of the film are set for 7 p.m. Saturday, Nov. 6; 1 p.m. Sunday, Nov. 7; 9 p.m. Monday, Nov. 8 and 3 p.m. Friday, Nov. 12. Viewers can livestream the documentary during regular air times from the MPB Public Media App, PBS Video App and online at mpbonline.org/television/livestream. For a limited time after Nov. 4, the film will be available to watch on demand at mpbonline.org.
With complete access to the Anderson family archives and the vaults of the Walter Anderson Museum of Art, this moving film brings together much of the artist's finest work as well as stories from his family that have never been told.
Though featured in countless books and exhibitions, including a retrospective show at the Smithsonian Institution on the centennial of his birth, Anderson has not yet achieved his deserved place in American art history. This film shines light on all the facets of Anderson's unbelievable output and presents a thoughtful progression of his life and art.

The hour-long film was created and produced by filmmaker Anthony Thaxton and restaurateur Robert St. John, who both worked for three years on their debut feature documentary. They have also written an accompanying book on Anderson that shares the film's title. The book will be released in November.
In the afterword of the book, St. John shares how he came to know Anderson's work.
"What attracted me immediately to the work of Anderson, even as a 10-year-old, were the coastal themes and especially the shrimp, crab and fish. Anderson's Mississippi Coast spoke to me. His Coast eventually became my Coast," he said. "I have always believed that the best art has a sense of place. I'm not sure if there has ever been an artist, in the history of artists, who was more 'of his place' than Walter Anderson. He ventured out from his place on occasion, once as far as China. But we felt the Mississippi Coast in that work, even still.
"Anthony Thaxton and I love his story so much, and the story of the entire Anderson family saga, that we had to get it on paper and on the small screen."
MPB is a state agency that also operates as a PBS and NPR affiliate broadcasting station. For more information visit www.mpbonline.org. Find all MPB press releases here.
---
###
Mississippi Public Broadcasting provides relevant instructional and public affairs programming to Mississippians through its statewide television and radio network. MPB enhances the work of educators, students, parents and learners of all ages by providing informative programming and educational resources. MPB's locally produced programming focuses on the people, resources and attractions that reflect Mississippi's unique culture and diverse heritage. Children's television programs constitute a major portion of the daytime and weekend morning schedules. MPB provides a valuable resource to Mississippians in disseminating information as part of the state's emergency preparedness and response system. Since 1970, MPB has won over 350 national, regional and statewide awards, including Emmy®, Edward R. Murrow and Parents' Choice® Awards.